5deHavendok has a sustained commitment to create a work environment where safety and operational excellence go hand in hand. We have a highly experienced and motivated team with a range of qualifications and skills. Our training program keeps our team knowledgeable of the latest quality, health, safety and environmental standards of good practice. We strive for damage free handling and are committed to the continuous improvement of our operational efficiency.
As a reflection of our commitment:
ISO 9001 certification
International Standards Organisation
Ensuring a standard for establishing, documenting, and maintaining a system to ensure consistent quality in all organizational processes within the company.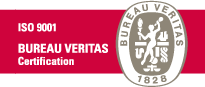 Seveso Regulated
European Regulation for the Prevention, Preparedness and Response in relation to accident hazards
ISPS approved
International Ship and Port Facility Security
All 5deHavendok terminals are ISPS approved with well trained PFSO's (Port Facility Security Officers).
In progress:
GMP certification
Good Managing Practices
5deHavendok is committing itself to safeguard the delivered base quality of your products and to continuous self-improvement.
GDP certification
Good Distribution Practices
A quality assurance system for warehouses and distribution centres of pharmaceutical and food products.